According to the U.S. Bureau of Economic Analysis, the United States' gross domestic product (GDP) — a measure of all goods and services produced — rose by 5.7% in 2021, not only rebounding from a brief recession from March 2020 but also marking the fastest growth since 1984's 7.2% growth.
In the fourth quarter of 2021, thanks to increased consumer spending, real GDP increased by 6.9%. That's a solid step up from the third quarter, which saw a disappointing GDP rise of 2.3% – the slowest mark since the second quarter of 2020. As CNN Business notes, that fourth quarter final was much better than many economists had predicted.
All told, it's a 9.1% swing when looking at the yearly change. In 2020, with COVID-19 sending businesses and people into lockdown, GDP decreased by 3.4% — the lowest since 1946 — with the second quarter hitting a minus 31.4%. During that time, over 22 million saw their jobs lost.
Meanwhile, the price index for GDP increased by 3.9% this year (compared to 2020's 1.2% raise). Exports — along with inventories, investments, and PCE — were a crucial factor in the growth for both goods and services, with consumer goods, industrial supplies and materials, and food being the leading export contributors.
That export number also helps to offset the rise in imports, which subtracts from the GDP. According to BEA's goods and services deficit report, the U.S. had accumulated $224.2 billion in exports and $304.4 billion in imports in November.
President Joe Biden commented on the rise in a White House press release, pointing out that for the first time in 20 years, the U.S. economy grew faster than China's (which saw a 2021 GDP growth of 8.1% and a fourth quarter growth of 4%).
"This is no accident. My economic strategy is creating good jobs for Americans, rebuilding our manufacturing, and strengthening our supply chains here at home to help make our companies more competitive."
Biden also stated that small businesses have grown by more than 30% since 2019, and that he plans to urge Congress to pass legislation that would keep the U.S. competitive while bolstering supply chains — which have seen continual pandemic issues — and investmenting in families and clean energy.
Speaking to NBC News, Bankrate chief financial analyst Greg McBride explained that the fourth quarter surge can be contributed to rising inventories, which accounted for 71% of fourth quarter growth. However, while degression should be expected early on in the new year due to COVID-19 variants, McBride sees the overall growth continuing in the coming months.
"Omicron will put a dent in first quarter economic growth — we're already seeing some of this with increased jobless claims — but demand remains strong, the labor market is tight, and the economy is poised for another year of solid, above-trend growth," McBride said.
The final quarter of 2021 was able to avoid any potential variant hits due to Omicron first appearing in late November/early December. Consumer activity ramped up late into the year, with holiday sales rising 8.5%, the highest growth in 17 years.
That surge sent businesses spiraling into shortages of both supplies and workers, which in turn affected prices. While the GDP rose, so did inflation, which hit 7% in 2021 (the highest since 1982).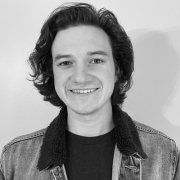 Andrew Rhoades is a Contributing Reporter at The National Digest based in New York. A Saint Joseph's University graduate, Rhoades' reporting includes sports, U.S., and entertainment. You can reach him at andrew.rhoades@thenationaldigest.com.
https://media.thenationaldigest.com/wp-content/uploads/2020/01/09161953/Economy-Stock-Market-400x400-1.jpg
400
400
Andrew Rhoades
https://media.thenationaldigest.com/wp-content/uploads/2019/12/23173823/The-National-Digest-785x60-1.png
Andrew Rhoades
2022-01-30 17:00:13
2022-01-31 09:15:54
U.S. Economy Rose 5.7% In 2021, Marking Fastest Growth Since 1984