Since its inception, The National Digest has been dedicated to providing authoritative and thought-provoking insights into trending topics and the latest happenings. In these divisive times, our mission is to provide facts and beneficial knowledge from the least biased point of view. With a topic range rooted in diversity, every story is written with the reader in mind, ensuring the content we publish is both engaging and inclusive.
EXPANDING YOUR REACH
BUILT FOR TARGET MARKET VISIBILITY
TOP 5 MOST ACTIVE COUNTRIES
ANALYSIS
Nearly 60% of audience is in the coveted 18-34 age demographic.
ANALYSIS
Readership evenly split between men and women.
AMPLIFY YOUR MESSAGE
EXTEND THRU INBOUND &
OUTBOUND CHANNELS
ANALYSIS
Reach expanded through extensive ranking in organic SERP's (search engine results pages).
ANALYSIS
Diverse social media interaction with concentrated presence on Facebook.
FLEXIBLE OPTIONS TO
INCREASE BRAND AWARENESS
Enhanced visual layouts to create a uniquely appealing user experience.
Story crafted by dedicated journalist to maximize audience engagement.
Ad-free, dedicated page to convey your message devoid of visual distractions.
Strategic content created using a consistent voice aligned with your brand's vision.
Audience-focused design to increase engagement in establishing new relationships.
High visibility placements throughout publication with SERP keyword optimization.
Publication Lead Story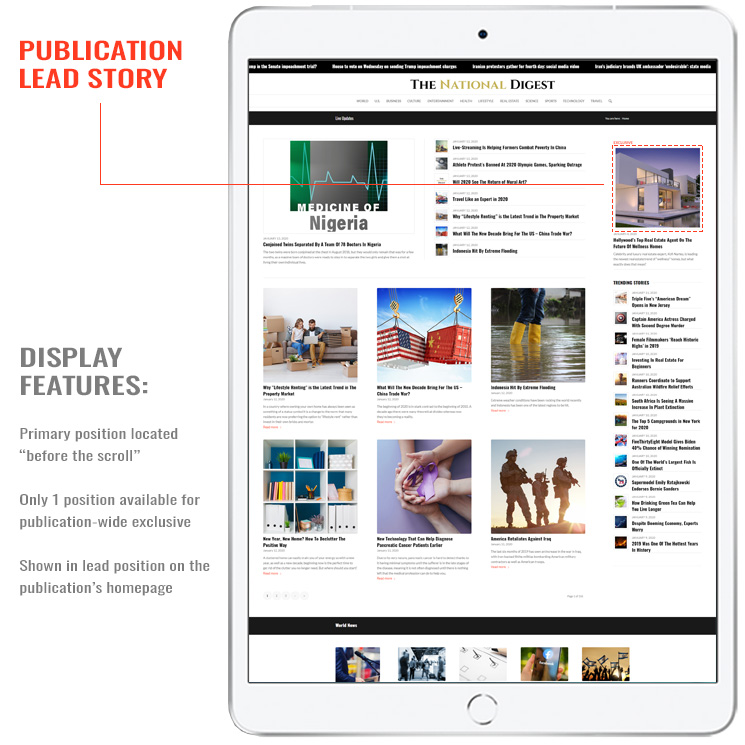 Category Highlight
Category Lead Story
Category Featured Story
Publication Featured Stories
Publication Trending Stories