Meet The 'Psychic' Tik Tok Pug Who's Captured The Attention Of Millions
For Tik Tok users, there's only one dog that matters: Noodle, the 13-year-old pug who apparently has "psychic" abilities. Every morning, his owner Jonathon Graziano (@jongraz) picks Noodle up from his dog bed. From there, Noodle will either fall or stand up.
If Noodle falls right back into bed, it's a "no bones" day. According to Graziano, that means you should take the day off, don't do hard tasks, wear comfortable clothes, and just enjoy a bath – a la, a "self-care" day to help you revitalize.
If he keeps standing, it's a "bones" day. That means you're in for a great day, and Graziano says you should be confident, ready to take risks if need be, and seize the day. Noodle's cute predictions have since blown up: Graziano's profile currently has 2.6 million followers and 23.2 million likes, and a number of Noodle's videos have combined for over 50 million views. #NoBones also has 258.1 million views.
In one of his videos, Graziano explained that Noodle was adopted when he was seven and a half-years-old and they learned early that when Noodle doesn't want to go on a walk, he won't go on a walk – probably something all dog owners have related to at one point or another.
Graziano has also made sure not to "force" a bones prediction. If Noodle, who Graziano refers to as his "sweet king," won't wake up, his owner won't disturb him. Rather, it's just a no bones day and the pug can enjoy his deep slumber.
"I love this thing but… no TikTok video is more important than Noodle's wellbeing. None of it," Graziano told Insider, assuring that the dog calls the shots when it comes to the video.
Appearing on the TODAY show, Graziano (with Noodle in tow) talked about how unbelievable it was that such a funny little daily event could have impacted so many on the popular app while spreading tons of positivity in the process.
"Noodle has brought joy to so many people online. I can't believe it," Graziano said. "This 'no bones' video is something that I would just do as a silly little ritual for us in the morning to check in and see how he was doing. And then it took off."
For the doubters out there, Noodle's magic apparently works. "A woman the other day said it was a 'bones day,' so she bought a lotto ticket and won half a million dollars," Graziano claimed, also citing actions such as proposals and down payments on bones days.
Tik Tok is known for its ability to thrust people into the spotlight due to impressive (or somewhat ordinary) talents. Charlie and Dixie D'Amelio, Addison Rae, and Zach King are just a few of the many names that have hit the spotlight up since the app saw its usage soar amongst young teens.
Of course, Tik Tok doesn't always have warm-hearted moments like this. The app received plenty of negative attention last month when the "devious lick" – a trend where teens vandalize and steal school property – emerged.
In a world where many are feeling stressed from current events, pandemics, and challenges, it's nice to see how much joy and excitement a pug, who may or may not have psychic powers, can bring. Hopefully we experience nothing but bones days from now on.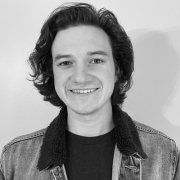 Andrew Rhoades is a Contributing Reporter at The National Digest based in New York. A Saint Joseph's University graduate, Rhoades' reporting includes sports, U.S., and entertainment. You can reach him at andrew.rhoades@thenationaldigest.com.
https://media.thenationaldigest.com/wp-content/uploads/2021/10/21125844/Pug-400x400-1.jpg
400
400
Andrew Rhoades
https://media.thenationaldigest.com/wp-content/uploads/2019/12/23173823/The-National-Digest-785x60-1.png
Andrew Rhoades
2021-10-21 12:00:37
2021-10-21 12:58:54
Meet The 'Psychic' Tik Tok Pug Who's Captured The Attention Of Millions