A self-shredded work of art by British street artist Banksy, titled "Love in the Bin," sold for 18.5 million pounds ($25.4 million) in a Sotheby's auction on Thursday. It was a surprising number, as presale estimates had the painting fetching up to 4 to 6 million pounds (around $5 million to $8 million).
The piece was originally sold for $1.4 million at Sotheby's back in 2018, and was then known as "Girl with Balloon." As the anonymous female European buyer won the bid, a hidden shredder in the frame of the painting cut up half of the canvas.
It was certainly a stunning move that, when watched on video, becomes amusing when factoring in the reactions of unsuspecting attendees and workers. Thankfully, the buyer of "Love in the Bin" was happy to be a part of such a notable event.
"When the hammer came down last week and the work was shredded, I was at first shocked," the buyer said, speaking to Sotheby's, "but gradually I began to realize that I would end up with my own piece of art history."
"Girl with Balloon," created by Banksy in 2006, featured a black spray-painted young girl reaching up for a the lone color of the piece, a red, heart-shaped balloon against the white canvas. After the shredding, only does the balloon and the smallest bit of the girl's head remain in the frame.
Sotheby's noted that Banksy using an "artist's frame," which is a heavy, Victorian-era frame, is typically how he "pokes fun at the establishment." Sotheby's also explained that this kind of ruse has become a norm for the artist. Previously, Banksy hung his own works of art in famous museums such as the British Museum and the Metropolitan Museum of Art.
Banksy is just as unique as the stunt he pulled. Street Art Bio gives a fascinating look into the creator's career, while also praising just how much of an impact Banksy has left in the art world due to his "no boundaries" approach.
"Banksy's political statements and disruptive vision have impacted cities across the globe at vital moments in modern history, provoking alternative viewpoints and encouraging revolution in the art world."
At just 18 years old, Banksy realized his desired form of art while hiding from the police after vandalizing public spaces: stenciling. Banksy would go on to create various artworks that deal with numerous themes, from designing hotel rooms guest could sleep in to oil paintings that form a cruise ship when combined, a shot at effects of mass tourism.
One of Banksy's defining traits is his satirical takes. One such painting, "Devolved Parliament,"  depicted the U.K.'s House of Commons being overrun with apes. It ended up selling for 9.9 million pounds, or $13.54 million, the highest amount of money any one of his works had fetched up until now.
Banksy's love of poking fun at society through primates is also shown in "Laugh Now But One Day We'll Be In Charge," which shows three monkeys holding up dripping pages that have the aforementioned title written on them.
It's not hard to see why people greatly enjoy the "variety and bravery" of Banksy's pieces, and how he is able to leave such a remarkable impression on his audiences – so much so that Street Art Bio says the inspiration he gives to artists of all forms and experiences is known as the "Banksy effect."
Banksy is an extremely private man – not even his full name is known, and he doesn't give interviews. Street Art Bio says that some sources claim his name is Robin Gunninham.  However, perhaps this mystery is best left unsolved. After all, it only contributes more to the zaniness and intrigue that surrounds him.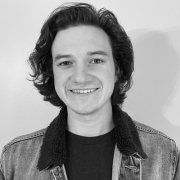 Andrew Rhoades is a Contributing Reporter at The National Digest based in New York. A Saint Joseph's University graduate, Rhoades' reporting includes sports, U.S., and entertainment. You can reach him at andrew.rhoades@thenationaldigest.com.
https://media.thenationaldigest.com/wp-content/uploads/2019/12/23174541/Auction-400x400-1.jpg
400
400
Andrew Rhoades
https://media.thenationaldigest.com/wp-content/uploads/2019/12/23173823/The-National-Digest-785x60-1.png
Andrew Rhoades
2021-10-17 09:00:34
2021-10-15 17:04:05
Banksy's Self-Shredded 'Love In The Bin' Artwork Sells For $25.4 Million